If you're searching for one-of-a-kind lodging options in Salem, MA, we've got you covered. This historically significant city, known for its witches and hauntings, has transformed into a delightful and picturesque Massachusetts destination. With its rich history, captivating sights, and endless possibilities, Salem has something to offer everyone.
The Merchant Hotel: A Historic Residence Reimagined as an Upscale Retreat (Rumor Has It, It's Haunted!)

Photo: The Merchant Hotel doesn't skip a detail when it comes to aesthetics! (hotels.com)
When it comes to interior design, The Merchant Hotel undoubtedly tops the list. Built in 1784 by the sea merchant Joshua Ward, this historic home has been transformed into one of Salem's most unique places to stay. If you have a passion for history and witch tales, this is the perfect accommodation for you.
But here's the interesting part: this hotel sits on land that was once occupied by a jail, where women accused of witchcraft were held. Some say the spirits of those unfortunate souls still wander the halls of The Merchant Hotel.
If you're brave enough, you'll be delighted by the rooms and suites, each uniquely decorated with vibrant color schemes, quirky furniture, and complimentary wallpaper. The hotel offers light breakfasts, a cozy common room, and an outdoor lounge area.
Salem Waterfront Hotel & Suites: A Unique Retreat on the Marina

Photo: The best place to stay right on the water in Salem, MA (hotels.com)
Prepare to be impressed by the Salem Waterfront Hotel & Suites. With its prime location, extensive amenities, and stunning marina views, this hotel truly stands out. Relax by the heated indoor pool, savor a meal at the award-winning restaurant, or take advantage of the convenient transportation to Pickering Warf.
The rooms and suites feature charming interior design, highlighted by pops of blue and luxurious bathrooms with tubs. After a day of exploring Salem, indulging in a soak is the perfect way to unwind. The hotel is not only an excellent choice for travelers but also a popular venue for weddings and events, having hosted companies like Google and Tripadvisor.
Northey Street House: A Cozy Bed & Breakfast Near Dead Horse Beach
If you're looking for a cool place to stay in Salem, MA, whether it's for Halloween or any other time, the Northey Street House is the ideal choice. Just a 15-minute walk from downtown and a mere 10-minute stroll from the beach, this bed & breakfast offers a peaceful and charming retreat in the heart of Salem.
The house, built in 1809, has retained its 18th-century charm with its interior design and antique decorations. With only three rooms, guests can enjoy a cozy and intimate experience. And if you're in the mood for some fresh air and nature, there's a delightful garden on-site.
The Coach House: A Quaint Hotel with a Luxurious Touch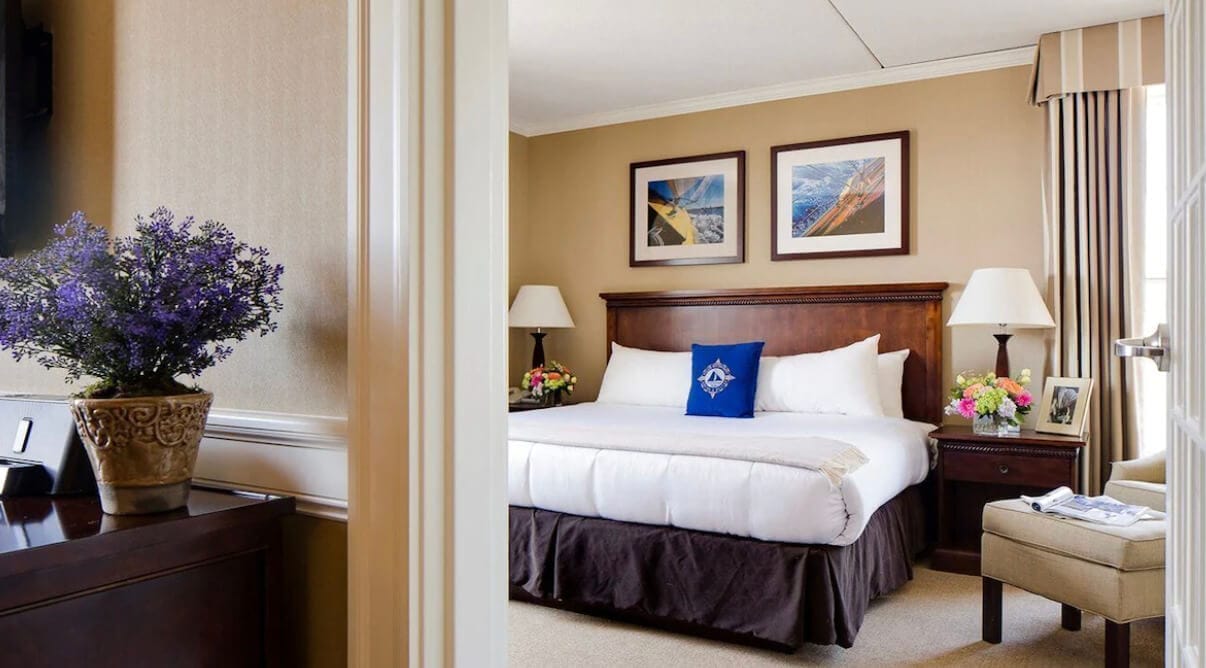 Photo: Historic boutique luxury! (Hotels.com)
For a unique blend of history and luxury, look no further than The Coach House. This distinctive establishment, built in 1897, showcases Victorian architecture and is conveniently located within a short drive or a 20-minute walk from Salem's top attractions. With a personal concierge at your service, you'll have access to the best recommendations, from historical sites to the finest restaurants.
The rooms and suites at The Coach House are some of the best-designed accommodations in Salem. Immerse yourself in a stylish black, white, and grey color scheme with luxurious accents and art deco touches. If you're seeking a luxurious, historical, and cozy space, The Coach House is the perfect place to stay in Salem.
Hawthorne Hotel: A Cool Hotel with Salem's Best Annual Halloween Ball

Photo: Everything you need is at the Hawthorne Hotel, including meeting spaces, dining, and welcoming rooms. (hotels.com)
Established in 1925 as a modern hotel for business travelers, the Hawthorne Hotel continues to offer a luxurious experience in the heart of Salem. Whether you're traveling for business, as a couple, or with your family, this hotel caters to all. Plus, it's renowned for hosting an annual Halloween ball, making it the perfect spot to stay in Salem during this time.
The rooms and suites at the Hawthorne Hotel are simple yet luxurious. With a variety of options available, you can choose the perfect accommodation to suit your needs. Additionally, the Hawthorne Hotel is known for its ability to bring people together, as it can host weddings, events, and business meetings.
The Daniels House Bed and Breakfast: A Haven for History Enthusiasts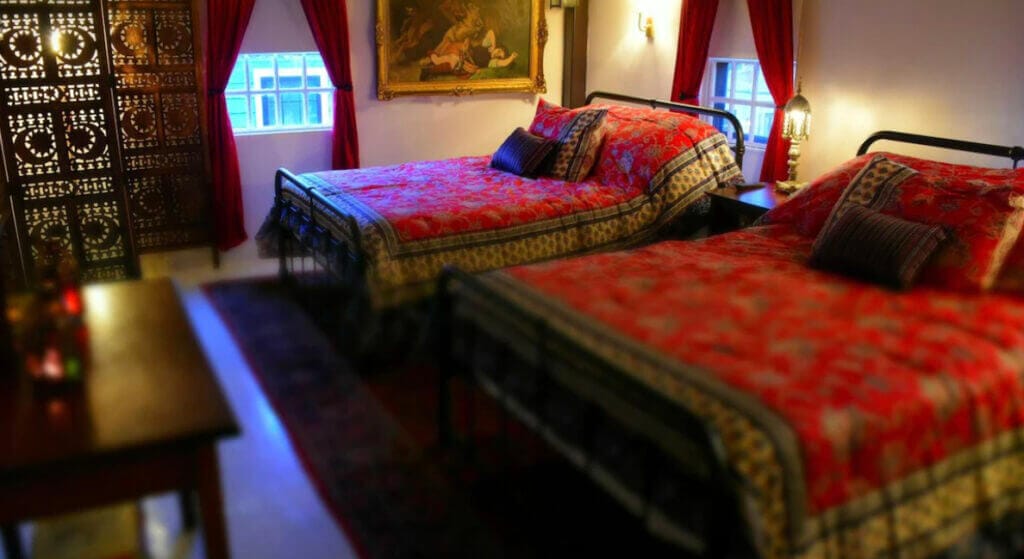 Photo: Welcome to one of the oldest places to stay in Salem, MA (hotels.com)
For a truly unique experience, don't miss out on the Daniels House Bed and Breakfast, America's oldest B&B. Built in 1667, before the infamous Salem witch trials, this charming establishment is a must-visit for those seeking extraordinary accommodations in Salem. With only four guest rooms, a daily breakfast, and a welcoming fireplace, your stay here will be comfortable and unforgettable.
The rooms at the Daniels House Bed and Breakfast are eclectic, featuring bold colors, maritime-inspired designs, and historical elements. By staying at this bed and breakfast, you'll immerse yourself in one of Salem's beloved historic locations. To make the most of your visit, inquire about a house tour that includes historical drinks and over 350 years of fascinating history.
The Hotel Salem: A Retro Oasis in the Heart of Salem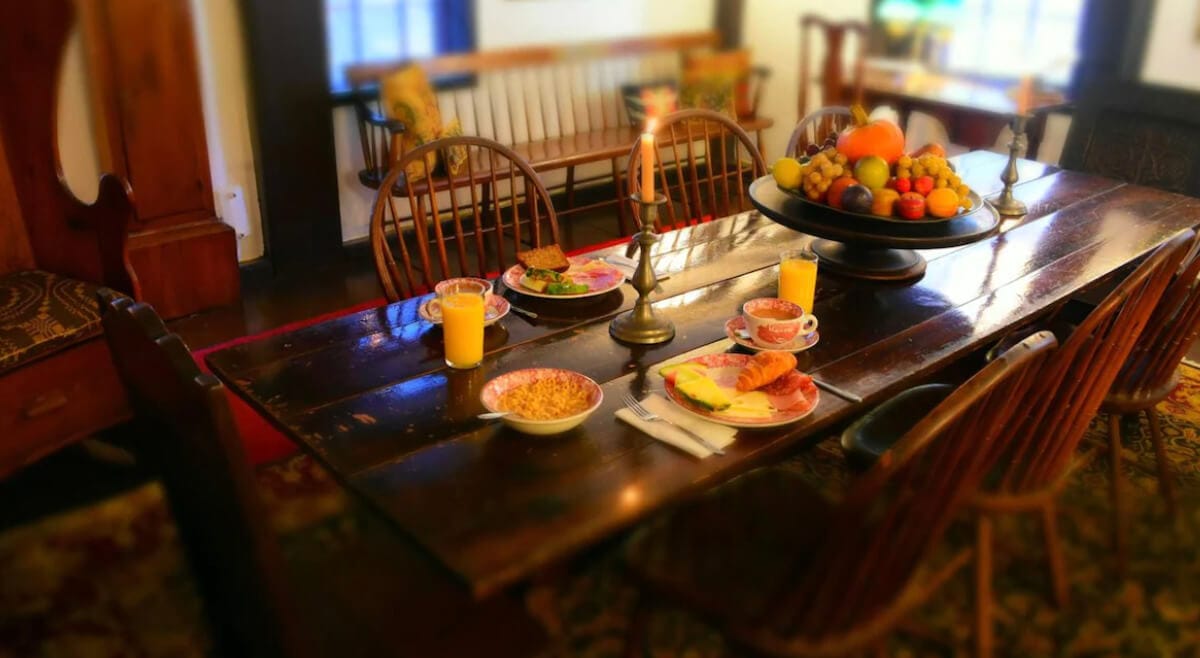 Photo: History and design lovers can't miss the charm of The Hotel Salem! (hotels.com)
Once an upscale clothing store, The Hotel Salem now offers one of the most unique experiences in Salem. The building retains its historical roots with mid-century design and 60s and 70s decor, creating a funky ambiance. Alongside the captivating interior design, the hotel boasts an on-site restaurant, a rooftop terrace, and a comfortable guest lounge.
The rooms and suites at The Hotel Salem feature art deco elements, retro design, and vibrant accents that breathe life into each space. While all rooms are spacious and filled with natural light, the hotel also provides micro rooms for travelers seeking luxury in a more compact setting.
The Salem Inn: Colonial New England Restored Homes for a Unique Experience
The Salem Inn consists of three restored historic homes located conveniently in the heart of Salem. This inn exudes history, from its colonial architecture to its interior design, capturing the essence of old New England. Guests can enjoy a daily breakfast, complimentary parking, and access to a fitness center.
The rooms and suites at the Salem Inn vary, catering to solo travelers and groups alike. Some accommodations feature whirlpool tubs, fireplaces, and canopy beds, adding a touch of luxury and homeliness to your stay.
Broom & Board: An Entire Home for Unforgettable Group Getaways and Halloween Parties in Salem

Photo: Your private home in Salem: Perfect for a group getaway! (hotels.com)
Looking for the perfect place to stay and host a Halloween party with your friends and family in Salem? Look no further than Broom & Board. Unlike many other cool and witchy accommodations in Salem, this unique hotel offers an entire home for you and your group, ensuring privacy and plenty of space to enjoy during your stay.
With four bedrooms, a fully equipped kitchen, and a spacious living room, this home can comfortably accommodate up to 10 guests. Its proximity to Salem Willows and various haunted and historic attractions is an added bonus. While the bustling city is nearby, Broom & Board is nestled on a quiet side street, ensuring a peaceful retreat.
Stepping Stone Inn: A Colorful Bed & Breakfast with Coffee and Cats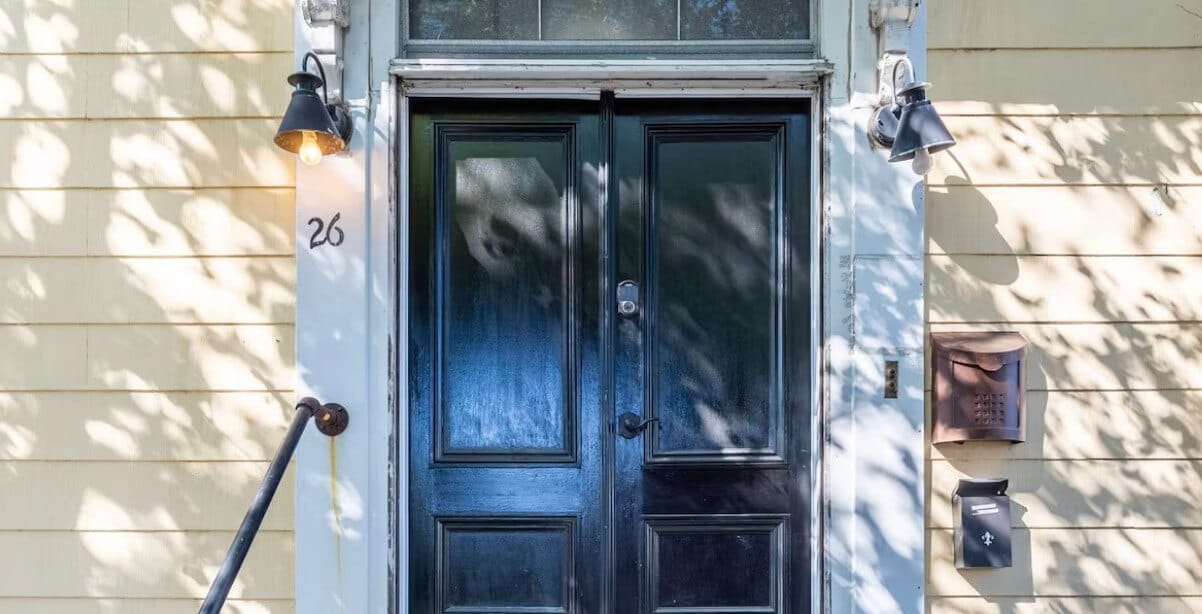 Photo: If an inn could have a personality, this would have the most unique one in Salem! (hotels.com)
The Stepping Stone Inn offers a truly enchanting experience with its colorful interior design, delicious coffee, and charming location in the heart of downtown Salem. This pet-friendly inn is the perfect choice for those who appreciate the company of cats and the aroma of freshly brewed coffee.
The inn features six rooms and two resident cats, making you feel right at home. Built-in 1846, the inn holds a piece of Salem's history, having served as a family home and later a boarding house before becoming the Stepping Stone Inn in the late 1980s. While embracing historical design and antique furniture, the inn adds vibrant pops of color throughout the dining area and bedrooms, creating a truly unique and welcoming atmosphere.
The Morning Glory: A Charming Bed & Breakfast with Daily Homecooked Breakfast and Harbor Views
If you're seeking tranquility, charm, and proximity to everything Salem has to offer, The Morning Glory Bed and Breakfast is the perfect choice for you. Owned by a Salem native, this Georgian-style home, over a century old, offers three spacious and elegant rooms, ensuring a cozy and intimate experience.
The rooms feature New England-inspired interior design and provide breathtaking harbor views. Guests rave about the warm and welcoming hosts who make every effort to ensure a delightful stay. And of course, the daily breakfast, cooked with love and care, is the cherry on top of this unforgettable bed & breakfast experience.
That concludes our guide to unique places to stay in Salem, MA! Now it's your turn to choose the perfect accommodation for your visit.
More Unique Stays: