With the resurgence of 70s fashion, flares are making a comeback yet again! From slight bootcut styles to fully flared out bell bottoms, flare jeans are all the rage for 2023 and beyond. But what are the best shoes to wear with these wide-legged beauties? Let's delve into the world of shoe styling for flares.
Best Shoes to Wear with Flare Jeans in 2023
Flare jeans make footwear choices a little easier compared to skinny jeans. Most flared hemlines are so long and wide that most shoes can go relatively unnoticed. The length and width of flares allow you to hide almost anything underneath, giving you the perfect opportunity to sneak in a pair of comfortable shoes such as wedges, platforms, flats, or sneakers.
However, if you opt for shorter or cropped flare jeans, your shoes will have a more significant impact on your overall outfit. In this case, your footwear will be clearly visible and should be chosen accordingly.
8 Favorite Shoes & Boots to Wear with Flare Jeans
When it comes to choosing the right shoes for flare jeans or bell bottoms, it's essential to consider both the shoe type and hemline. The two should complement each other to create a cohesive and stylish look.
Ankle Boots with Flare Jeans
Ankle boots with square or almond toes are great boots to wear with flare jeans. Opt for ankle boots that are tight at or above the ankle to maintain a clean, uninterrupted pant line. Rounded or almond toe shapes offer a softer look, especially when paired with longer flares. Ankle boots work well with almost all types of jeans and pants.
Platforms with Flare Jeans and Bell Bottoms
For a true 70s vibe, platforms are the perfect shoes to wear with flare jeans and bell bottoms. Platforms allow you to wear high heels while providing comfort and stability. Platform sandals with chunky heels are particularly fashionable for 2023. To showcase your fab platform sandals, have your hem end just above the base of the heels.
Chunky Boots with Flare Jeans
Chunky boots in ankle or calf height are a great choice for flare or bell bottom jeans. Look for boots with a high lug sole for a trendy combat boot aesthetic. Classic options like Doc Martens, especially ones with a platform, are always a fashionable choice. Chunky boots work well with all lengths of flare jeans, with cropped flares and bell bottoms showcasing them even more.
Wedges and Flatforms with Flares
Wedges and flatforms are another top choice to pair with wide-leg jeans, such as bell bottoms. These shoe styles perfectly complement flare pants, providing extra lift and comfort. Opt for a cork base for a casual and rugged look. The same hemline tip applies here as with platforms.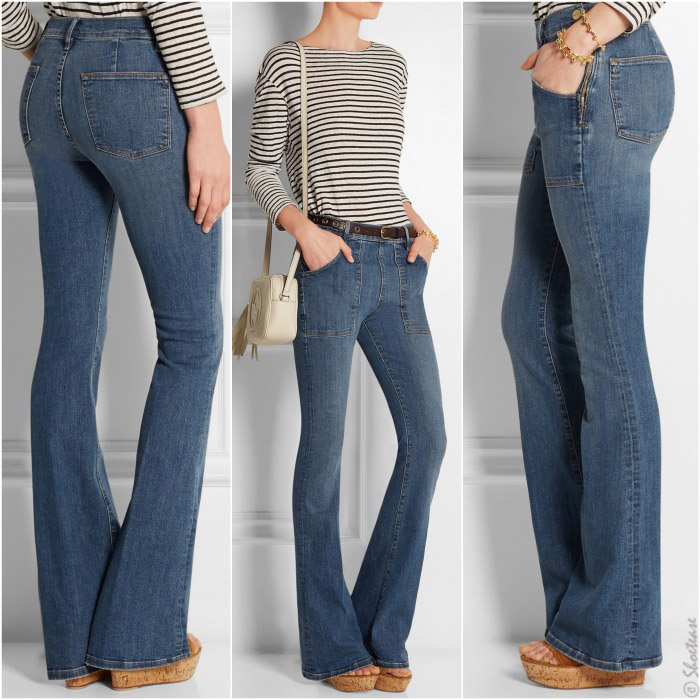 Chunky Heels with Flares
Chunky heels are an excellent choice for flare jeans. From higher heeled slides to lower sandals, chunky heels provide stability while keeping you grounded. They are easier to walk in than stiletto heels and can update any outfit effortlessly. Any flared hemline works well with chunky heels, but avoid flares that end above the lower ankle.
Clogs with Flare Jeans and Bell Bottoms
Clog sandals add a fun and retro touch to your flare jeans. You can opt for Swedish Hasbeens, Dr. Scholls, or classic closed-toe clogs. Any clog style will work well and add flair to your flares. Adjust the hemline of your jeans to show off the detailing of the clogs. Keep the hemline a little shorter to achieve this look.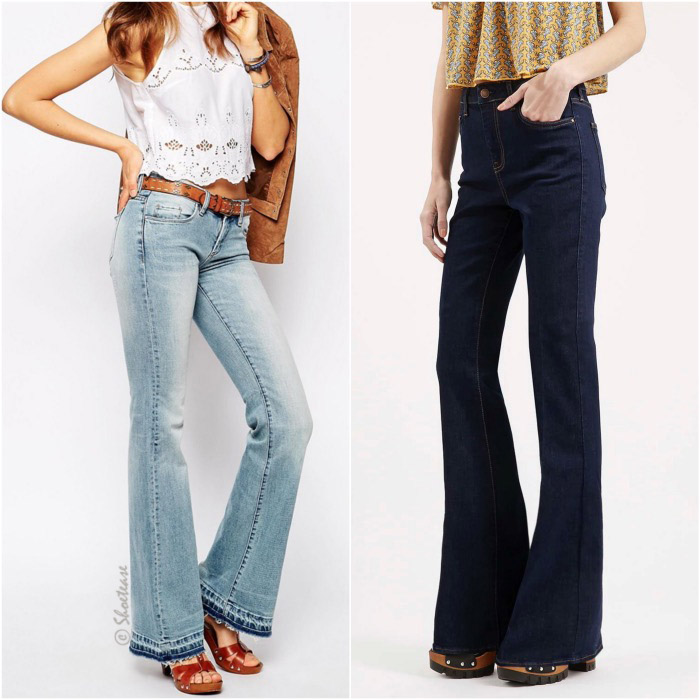 Flare Jeans with Flat Sandals
If you prefer a casual and heel-less look, flats are still an option with flare jeans. Strappy flats or gladiator sandals can create a relaxed bohemian feel. Opt for this style with flare to barely boot-cut jeans. Avoid flat shoes with extra wide bell bottoms as they may look messy and be uncomfortable.
Sneakers with Flares
For a sporty and casual look, sneakers are the way to go with flare jeans. They are comfortable and provide a laid-back vibe. You can choose classic sneakers like the Adidas Stan Smith or Superstar, or even try a sneaker with a thicker outsole or flatform for added style. Keep the length of the flares in mind to avoid bunching at the bottom.
Birkenstocks with Flare Jeans
To add an earthy touch to your flare jeans, consider pairing them with Birkenstocks. This combination works well, especially with bootcut jeans. You can create a boho look by tucking in a flowy blouse and accessorizing with a fringe purse. For a sleeker look, choose white or black flares, contrasting leather Birks, and a simple tee or bodysuit.
Shoes Not to Wear with Long Flare Jeans
When it comes to long flares, there are a few types of shoes to avoid:
Thin Stiletto Heels (especially stiletto mules!)
Thin stiletto heels are not recommended for long flare jeans as they can cause balance issues and potentially ruin the fabric. These shoes are not stable enough to support the weight of bulky flares. If you're set on wearing stiletto heels, opt for shorter, wide-legged pants or flared jeans with a raised hemline.
Pointed Pumps with Flare Jeans
Pointed pumps may not be the ideal choice for flare jeans. The dainty nature of a pointed toe doesn't always complement the wider and bulkier silhouette of flare or bell bottom jeans. Additionally, the thin heels can snag the back of the jeans and pose a tripping hazard. It's best to choose shoes that provide comfort and complement the style of flare jeans.
Final Thoughts on Shoes to Wear with Flare Jeans
If you're not quite ready to embrace flare jeans, skinny jeans are still very much in style. Check out the ShoeTease guide for the best sneakers to wear with skinny jeans. Remember, the right pair of shoes can elevate your flare jeans and complete your stylish look. So go ahead and experiment with different styles to find your perfect shoe-flare combination.
xo ShoeTease